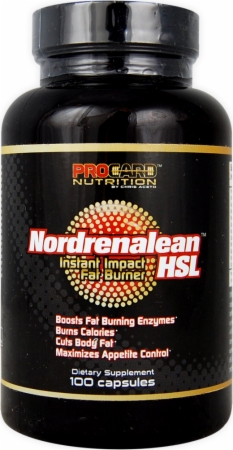 Compare with other Fat burners
Compare
| | | |
| --- | --- | --- |
| ProCard Nutrition Nordrenalean HSL | VS | All other Fat burners |
Basic Details

Description
With Green Tea! Helps Burn Calories & Supports Appetite Control!*


Category
Lose Fat


Serving Size
2 Capsules


Container Size
100 Capsules


Servings per Container

50

(0.85 lower than average)

vs


Directions
Directions For Nordrenalean Hsl: As A Dietary Supplement Take 2 Capsules With 8 Ounces Of Water 15 Minutes Before Breakfast Or Lunch. For Contest Preparation Or Extreme Results, Take 2 Servings Daily At Least 4-6 Hours Apart. Do Not Exceed The Recommended Dose Of 4 Capsules A Day. Drink 8-10 Glasses Of Water Daily. For Best Results Combine Nordrenalean Hsl With A Weight Training And A Balanced Nutrition Program. Do Not Take 4 Hours Before Bedtime.


Main Ingredients
Synephrine


Warnings
Warnings: Not Intended For Persons Under The Age Of 18 Or With A Medical Condition. Not To Be Used By Pregnant Or Lactating Women. Consult A Medical Doctor If You Have A Family History Of Any Medical Condition Including, But Not Limited To; Thyroid Disease, Heart Disease, Liver Disease, High Blood Pressure, Kidney Disease, Diabetes, Depression, Insomnia, Or Mental Illness. Do Not Use If You Are Taking A Monamine Oxidase Inhibitor Or Serotonin Based Or Effective Medication. Do Not Combine With Other Sources Of Caffeine Such As Coffee, Tea, Or Energy Drinks. Each Dose (2 Capsules) Provides Caffeine In The Amount Found In 3 Cups Of Coffee. Discontinue Use And Seek Medical Assistance If You Experience Nausea, Increased Heart Rate, Irregular Heart Beat, Dizziness, Or Chest Pains. Keep Out Of Reach Of Children And Elderly Individuals.


Supplement facts

Proprietary Blend HSL Extreme
1500 mgs