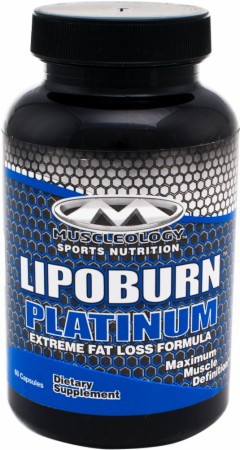 Compare with other Fat burners
Compare
| | | |
| --- | --- | --- |
| Muscleology LIPOBURN PLATINUM | VS | All other Fat burners |
Basic Details

Description
Extreme Fat Loss Formula!* Helps Get You Shredded & Supports An Active Metabolic Rate!*


Category
Lose Fat


Serving Size
1 Capsule


Container Size
60 Capsules


Servings per Container

60

(9.15 higher than average)

vs


Directions
Directions For Lipoburn Platinum: For Best Results Take 1 Serving In The Morning Onan Empty Stomach And 1 Serving Before Your Mid-day Meal. For Advanced Fat Burning, Take An Additional Capsule 20 Minutes Prior To Cardiovascular Activity.


Main Ingredients
Caffeine


Other Ingredients
Magnesium Stearate, Phosphate Dicalcium, Microcrystalline Cellulose, Gelatine Capsule


Warnings
Warnings: Consult Your Physician Before Using This Product. Not Intended For Use By Individuals Under 21. This Product Contains Caffeine. Do Not Use If You Have Or Are Being Treated For Prostate Hypertrophy Or Cancer, Heart, Liver, Cardiovascular, Kidney Or Thyroid Disease, High Blood Pressure, Low Hdl, Taking Antidepressants, Mao Inhibitors, Prescription Drugs Or Any Over The Counter Prescription Drugs Containing Ephedrine Or Pseudoephedrine. Do Not Exceed Suggested Serving. Do Not Exceed 4 Weeks Of Continuous Use. Do Not Use If Pregnant Or Nursing. Discontinue Use And Contact Your Health Care Provider If You Experience Rapid Heartbeat, Dizziness, Severe Headache, Shortness Of Breath, Or Similar Symptoms. Protect From Heat, Light And Moisture. Store At 15-30°c (59-86°f) Do Not Use If Seal Is Broken. Keep Out Of Reach Of Children.


Supplement facts

LIPOBURN PLATINUM® Inferno Proprietary Matrix
700 mg